Career Services
Resources for your career success.
Our staff helps you understand your career-related interests, preferences, strengths, and values so you can explore your career or vocation. There are lots of ways to get support through networking with alumni and various organizations, attending workshops on resume writing, interview skills, LinkedIn profile development, and job search strategies.
Search job Opportunities
Loras College has partnered exclusively with College Central Network, a robust career platform that provides job seekers with employment opportunities and career development resources.
It features opportunities for part-time jobs, internships, and full-time employment, making the job search experience easier and more productive for you.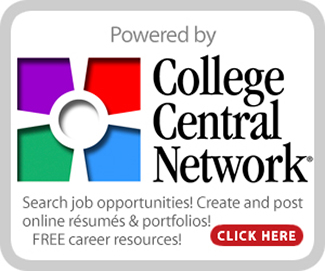 What is offered?
One-on-One
Career planning
Critiques of resumes and cover letters
LinkedIn profile development
Simulation interviews (for employment and admission to graduate and professional school)
Online
Online options for networking with employers, resume referral, and access to podcasts and reference materials on all dimensions of the job search process.
Workshops & Zoom Seminars
Offered various times throughout the year:
Internship and job search tactics
Writing resumes and cover letters
Effective interviewing
LinkedIn profile development
Make career fairs work for you.
Networking
LinkedIn Profile Development
Homecoming Alumni Career Insight Panels
Next Up Young Professionals of Dubuque Mentoring Program
Loras Alumni Mentoring Program (LAMP)
Graduate & Post Baccalaureate Planning
Help with researching various schools and programs.
Application assistance
Mock interviews
Assistance with resumes, interest letters, essays, etc.
Employer Connections
Support for employment recruiting: pass-by tables, employer information sessions (virtual), and on-campus interviews
Annual career fairs like the Area Collegiate Career Fairs conducted collaboratively with the Greater Dubuque Development Corporation and the IT Sector Board
CONNECT Iowa's Engineering Virtual Interview Day and Finance, Accounting, Commerce, and Economics (FACE) Virtual Interview Day.