Motivated by Jesus' example and the rich heritage of Catholic social teaching, we recognize and embrace the call to serve. As a diocesan college, service on campus overflows into the local, national, and international communities.
The Catholic Church teaches the importance of practicing mercy by meeting individuals' immediate needs and addressing the systems that prevent people from flourishing through social justice.
At Loras College, students engage in service to the world through meeting immediate needs and advocating for social change.
Peace & Justice
Loras is dedicated to peace and justice, and we are called to do our part to build a sustainable world where conflict is reduced, and resolution is more easily achieved. We offer a peace and justice minor and many opportunities for you to get involved.
Fr. Ray Herman Peace & Justice Center
Loras is home to the Father Ray Herman Peace and Justice Center.  It was established in 1982 in memory of Fr. Herman, who was murdered in 1975 after thirteen years of serving Bolivia's poor spiritual, medical, and educational needs. His commitment to the Gospel message of justice and peace lives on in the center's mission to create a more decent, loving, just, and peaceful human community.
Peace & Justice House
The Father Ray Herman Peace and Justice House is an intentional community that promotes awareness of social justice issues and lives out a mission of hospitality and inclusion.
Members live intentionally with one another, host weekly community-building gatherings open to all students, work with the Peace and Justice Center to organize events, and raise awareness of social and ecological justice issues through joint leadership of the Du-Peace and Justice student club.
Peace & Justice Week
In conjunction with the International Day of Peace, Loras plans a collaborative week highlighting the vast number of student groups working for peace and justice on local, national, and international ways.
Valder Social Justice Award
Every year, $3,500 is awarded to select juniors for an eight to ten-week internship at a social change organization nationwide. Past internships include interning at places that focus on immigration and refugee services, Catholic Worker communities, living in right relationship with the land, and community organizing agencies.
Explore More with TREC
Loras offers a variety of service and social justice experiences throughout the year.
TREC stands for think, reflect, engage, and connect—reflecting the depth of experience you encounter on these immersion trips.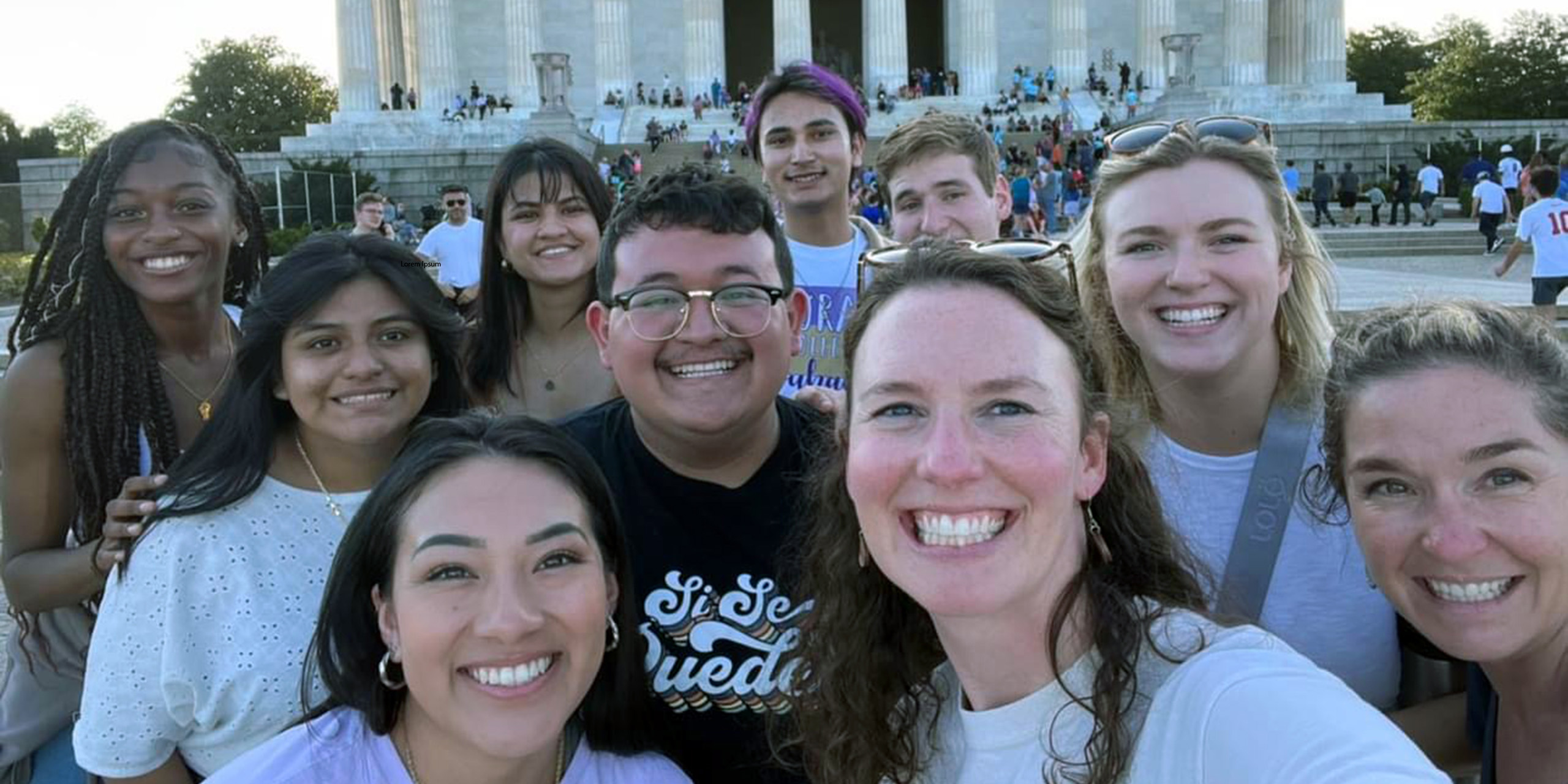 Trips frequently offered:
Peacemaking in Washington, DC
Peacemaking through Many Lenses—meet with representatives, demonstrate at the White House, spend contemplative time in retreat, learn from social justice organizations in Baltimore and D.C., and advocate for social issues (determined by the group) by lobbying and engaging in peaceful protest at the White House and Pentagon.
Thanksgiving in McKee, KY
McKee is a community in rural Appalachia with a long-standing relationship with Loras College service. Every year, the McKee parish welcomes Loras students to volunteer with local organizations, collaborate with community members, prepare a Thanksgiving feast for the community, and enjoy the lake and hiking trails at Camp AJ.
Border Experience in Nogales, AZ
Travel to the US-Mexico border in Arizona, where Kino Border Initiative hosts Loras students in their mission to humanize the immigration experience. Students spend time with recently deported migrants and learn from their stories, visit the comedor (soup kitchen) and women's shelter, go for a guided desert walk, celebrate Mass together, and much more.
Stewardship in New Orleans, LA
Loras partners with environmental sustainability programs and the Sankofa Wetland Park to plant trees and other outdoor rehabilitation projects and learn about social injustice following Hurricane Katrina. Camp Hope hosts our group for activities and reflection, and students spend a day exploring New Orleans.
Backpacking Retreat
You can learn basic backpacking skills on this three-day, two-night camping and hiking trip in a beautiful, hilly region near the Mississippi River. Take time away from your busy lifestyle for self-reflection, community building, and exploring Pope Francis' writings on integral ecology.
Effigy Mounds National Monument
Explore the Indigenous resurgence and the sacred lands of the Dakota people. Students will encounter the Catholic Church of Gichitwaa Kateri, Dream of Wild Health farm, Little Earth neighborhood, and a sacred lands tour in Minneapolis, MN.
Education Outreach in Morton, MS
Volunteer at the EXCEL Community and Learning Center, assisting with outreach in schools and in a tutoring program.
Local Service
As a diocesan school, Loras emphasizes the importance of place and tending to the local community's needs. Spiritual Life provides a connection point between students and many non-profit organizations for short-term and long-term service.
Yearly food and clothing drives and fundraising for local organizations are other ways we serve the local community. Local service also happens regularly in conjunction with the service learning office, the Honors program, and other curricular and co-curricular settings.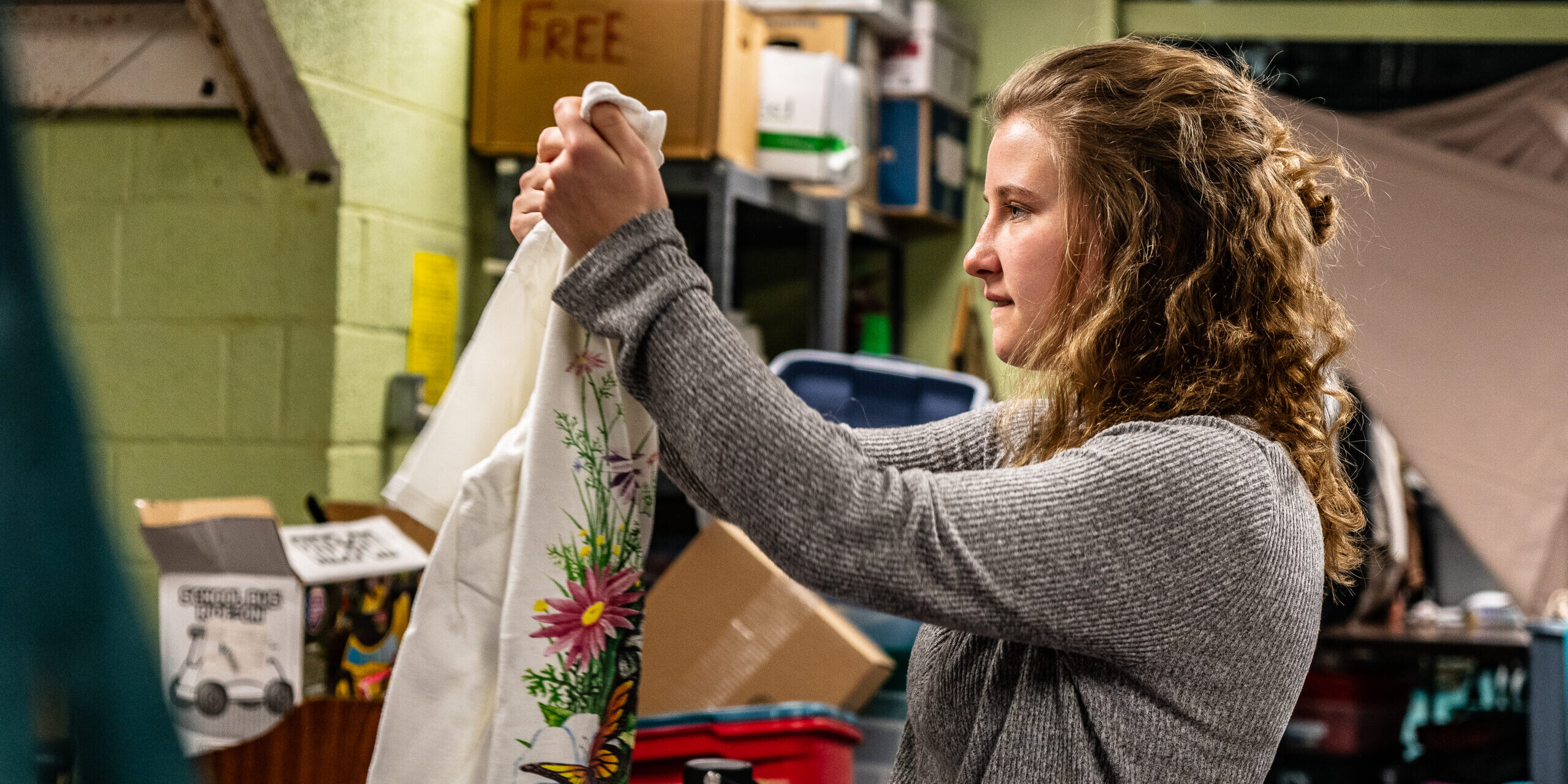 A Leader in Fair Trade
Loras was the first college in Iowa, the first Catholic college in the Midwest, and the fourth Catholic college in the nation to sign a fair trade resolution in 2012, designating Loras as a Fair Trade College.
Fair trade colleges and universities aim to seek equity in trade and sustainable development. We serve fair trade coffee and tea and have a yearly Ten Thousand Villages Fair Trade sale near Christmas.
We continually work to expand our fair trade products and educate our campus and community on the importance of buying fair trade.
Our Commitment
Holding a campus-wide fair trade sale every Advent season
Providing educational opportunities helps our campus and greater community understand the importance of buying fair trade.
Extend our offering of fair trade products in Dewey's Perch, our on-campus spirit shop.
Current students help plan educational events about ethical consumerism each semester.
Sustainability on Campus
The Loras Green Team consists of faculty, staff, and students who work together to promote environmentalism on a personal level, in the classroom, in our campus community, and beyond.
Our community affirms the goodness of creation and the special place humans have within the natural order here on earth. We recognize that from these beliefs flow certain serious obligations to all of God's creatures, both human and non-human, living and non-living. Accordingly, the Loras faculty, staff, students shall bear witness to careful, thorough, lasting, and sustainable stewardship of all creation, for the sake of present and future generations and for the common good, by:
Food and Wellness

The Loras College Cafeteria

The goal of Loras' cafeteria is to provide students with nutritious food. Partnering with Aramark, our dining service, aligns with their "Be Well. Do Well." program focused on making a positive impact on people and the planet. From ethical sourcing of products to composting to reduce food waste, Loras is focused on sustainable food practices in our dining facilities.

Food waste is one the most important things to redirect from the landfill, and with the help of GreenRU, Loras College has been composting since 2019 to combat food waste. Collection bins are within the cafeteria. Students are responsible for scraping their leftovers and napkins into the composting bins at the dish-ware collection site.

Learning more about how our composting system works.

Tom Blacklock Memorial Campus Garden "Where everything is free for the taking."

To provide access to locally grown produce, including vegetables, fruits, and herbs. The garden is located between Hennessey and Science halls. Everyone is welcome take as much produce as they'd like. You are also encouraged to volunteer to tend to the garden. If you are interested, contact Dr. Sinha.
Recycling and Waste

We are committed to waste reduction and do what we can to follow the three R's of reduce, reuse, and recycle. Waste and recycle bins are located all across campus, and in traditional and alternative housing facilities, to make it easy to dispose of waste and recyclable material.

Residential Halls and Alternative Housing

Every residential hall room and alternative housing rooms are equipped with a blue bin for use of collecting recyclable items. Res hall students are able to carry these bins and dispose of them in the larger recycle bins located in their bathrooms where custodial staff will later empty and sort. Students are responsible for taking their bins from their rooms to the bathroom on their floor.

Common Recycling Streams


| | Accepted | Not Accepted |
| --- | --- | --- |
| Paper | newspapers, magazines, catalogs, office paper, egg cartons, Kraft paper, phone books, junk mail, brown paper bags, feed sacks, books and shredded paper. | paper towels, paper plates or paper cups, toilet paper, wall paper, waxed paper, Christmas wrapping paper and stickers. |
| Plastics | items stamped with #1 or #2 such as milk jugs, soap bottles, butter tubs, yogurt cups, buckets pop and water bottles. | styrofoam, plastic bags, toys, vinyl siding, PVC pipe, plastic feed sacks, films, rubber, carpet, foam, silage bags, Tyvek, field tile, or motor oil bottles. |
| Cardboard | basic corrugated boxes or sheets, cereal boxes, pizza boxes, shoe boxes, or similar containers. Please remove all Styrofoam, plastic bags, and any other packaging. Staples, tape and labels are OK to leave on. | milk or juice cartons, plastic or wax coated boxes or any cardboard contaminated with oil. |
| Glass | Redeemable glass items can be redeemed at Walmart. | Glass is not collected at Loras. |
Education Opportunities

Loras College offers an interdisciplinary minor in sustainability.

This minor calls students to understand the physical, social, and ethical dimensions of environmental sustainability, from the local level to the global. Building on that foundation, we challenge our students to actively work together to collectively prioritize our environment for present and future generations.
Get Involved

On campus and within the Dubuque community, Loras students are able to be involved in sustainably activities, events, and organization. If you're feeling the call to be more involve, check out the opportunities below.

Loras Environmental Action Forum (LEAF)

LEAF works to educate the Loras community about the importance of sustainability and environmental action. This is done through educational events, speakers, recreational outings, discussions, and more. In the past, we've went on canoeing trips, made eco-friendly crafts, hosted trash pickups, lead local environmental initiatives, and helped organize the annual Dubuque Ecofest.

Dubuque Sunrise Hub

The DBQ Sunrise Hub is a part of the national Sunrise movement working to mobilize our country's youth to make climate change an urgent priority across America, end the corrupting influence of fossil fuel executives on our politics, and elect leaders who stand up for the health and well-being of all people.

We are ordinary young people who are scared about what the climate crisis means for the people and places we love. We are not looking to the right or left. We look forward. Together, we will change this country and this world, sure as the sun rises each morning. The DBQ Sunrise Hub meets once a month and organize monthly climate actions. Some of our recent work has included a local climate strike, a letter campaign, printing Green New Deal shirts, and much more!