Launch your cybersecurity career in only six months with our accelerated Cybersecurity Bootcamp training.
Cybersecurity Bootcamp (powered by ThriveDX Impact) is a fully asynchronous online accelerated training program designed to successfully prepare people with little or no background in IT for entry-level jobs in cybersecurity, a highly in-demand and lucrative career path.
Why Cybersecurity?
With the rate of cyber-attacks reaching record highs, there is an urgent need for workers in cybersecurity. The field has had NO unemployment for nearly a decade and forecasts 35 percent job growth throughout the next year. With plentiful opportunities and competitive compensation, an accelerated Cybersecurity Bootcamp is the best way to gain the necessary skills to fill these positions.
Developed around military training methodologies and hands-on learning, the program focuses on the essential skills employers seek. The bootcamp prepares you with technical knowledge and the essential skills required for a successful career in cybersecurity.
Upcoming Bootcamps
January 30
February 27
March 26
April 30
Application Criteria & Eligibility

Admission Criteria & Eligibility

High school diploma/GED (minimum).
Students do not need an IT background to enroll in this program.

Online Application

Please create an account and apply online. There is no application fee.

When first starting the application, select "Graduate and PCE Application" as the Application Type.
In the Student Profile section within the application itself, select "Professional & Continuing Education"
as the Student Type, then select "Cybersecurity Bootcamp" as the Academic Program.
Please note that you do not have to upload anything to the Materials section of the application.

All Official Transcripts

For a transcript to be considered official, it must be mailed in a sealed envelope from that institution's
Registrar's Office directly to Loras College Graduate Admissions. (Transcript "issued to student" as well as
faxed and copied transcripts will not be considered official).
All official transcripts can be mailed to: Loras College Graduate Admissions, Attn: Megan Henderson, 1450 Alta Vista Street, Dubuque, IA 52001

Official electronic transcripts ordered through a service such as Credential Services or National Student
Clearinghouse are also acceptable.
Please have your transcripts sent immediately after you have submitted your online application. A high school transcript is only required if you do not have any college credit.

Application Deadlines

Students may begin the 24-week Cybersecurity Bootcamp in either Spring, Summer, or Fall (please see Loras'
Cybersecurity Bootcamp webpage for upcoming start dates). Loras offers rolling admissions for this program,
but the application and official transcripts should ideally be submitted at least one month prior to the start of
your desired session.

Enrollment Process

Immediately after our receipt of your application and official transcript(s), you will be notified in your online
Applicant Status Portal of your next steps. You will be asked to pay a $100 confirmation deposit to confirm
your spot in the program. Once the deposit is received, you will receive registration information.
Please note that federal financial aid is not available for this program.
Program Costs

Cost

The cost of the entire Cybersecurity Bootcamp is $5,500.

Payment

Students have two options for program payment:

Utilize tuition reimbursement from their employer via completion of Loras's Employer Tuition Reimbursement Form, OR:
Self-pay the entire program balance before the first day of class.

Students who wish to utilize tuition reimbursement from their employer must complete Loras' Employer Tuition Reimbursement Form before the first day of their first class.

Students will still be issued regular billing statements from Loras, but will be exempt from any service charges and will be exempt from having to make full payment until after the end of each class (or until after program completion for CFP Certification or Cybersecurity Bootcamp students).

Students or employers are welcome to make payments directly to Loras along the way if they would like, but it is not required. If the employer reimbursement criteria are not met and/or reimbursement is denied, the student must bring their account current, immediately, before any future registration will be permitted.

Student's balance must be paid in full within thirty days of the last day of each term (or within thirty days of program completion for CFP Certification Education and Cybersecurity Bootcamp students), and prior to Loras/ThriveDX issuing the student a certificate of completion.

Students who do not complete Loras' ETR Form must self-pay their entire program balance before the first day of class. Students who fail to make payment for the program by that date will be asked to remit payment or be removed from the program.

Withdrawal/Refunds

Students who withdrawals from the Cybersecurity Bootcamp within one week (seven days) of the first day of the Bootcamp will receive a full refund.

Please note that the confirmation deposit and credit card convenience fees, if applicable, are not refundable. Students who drop out on day eight of the program or anytime thereafter will receive no refund and will be financially responsible for the full cost of the Bootcamp.

Financial Aid

Please note that federal and institutional aid is not available for this program. However, students are able to utilize employer tuition reimbursement and/or private loans.
Try one course
Intrigued about cybersecurity but not ready to commit to the full bootcamp? Register for the Intro to Cybersecurity course, an online, self-paced introductory course ideal for those curious and who want to get familiar with this exciting industry. This 30-hour course is broken down into ten "week" formats, but you may progress on your own time.
Registration

This introductory course is open to all interested students, and no IT background is required. In order to enroll in the course:

Complete the free Loras College Special Course Application. Select "Professional & Continuing Education" as the Course Registration Type.
You may begin the course at any time.

If you'll be completing the course anytime between late January and mid May, please select "Spring" as the Entry Term.
If you'll be completing the course anytime between mid May and late August, please select "Summer" as the Entry Term.
If you'll be completing the course anytime between late August and late January, please select "Fall" as the Entry Term.

Once you submit the application, please follow the prompts to make the course payment.
After payment is received, our Registrar's Office will be in touch with information about course specifics.

Questions? Contact the Loras Registrar's Office at registrar@loras.edu or 563.588.7779.
Cost and Payment

The cost of the Intro to Cybersecurity course is $500. Payment must be made in full prior to being able to start the coursework. Please note that financial aid is not available for this course.

Any student who completes the Intro to Cybersecurity course and subsequently registers for the full Cybersecurity Bootcamp will receive a $500 discount off the cost of the Bootcamp. Train for In-demand Roles
Major tech companies no longer require college degrees and now focus on skill and promising prospects of those with hands-on, practical skills gained from bootcamps Competitive Entry-level Salary
The average annual pay for an entry-level Cybersecurity Analyst in the United States is $82,565/year and the average annual pay for a cybersecurity position in the US is $112,974/year. Future-proof Job Sector
The number of unfilled Cybersecurity positions now stands at over 4 million professionals, up from 2.93 million this time last year. This includes 561,000 in North America.
Which cybersecurity roles can I get?
Cybersecurity careers are plentiful and a variety of roles are available at financial institutions, retailers, research companies, accounting firms, credit unions, government organizations—the list is endless.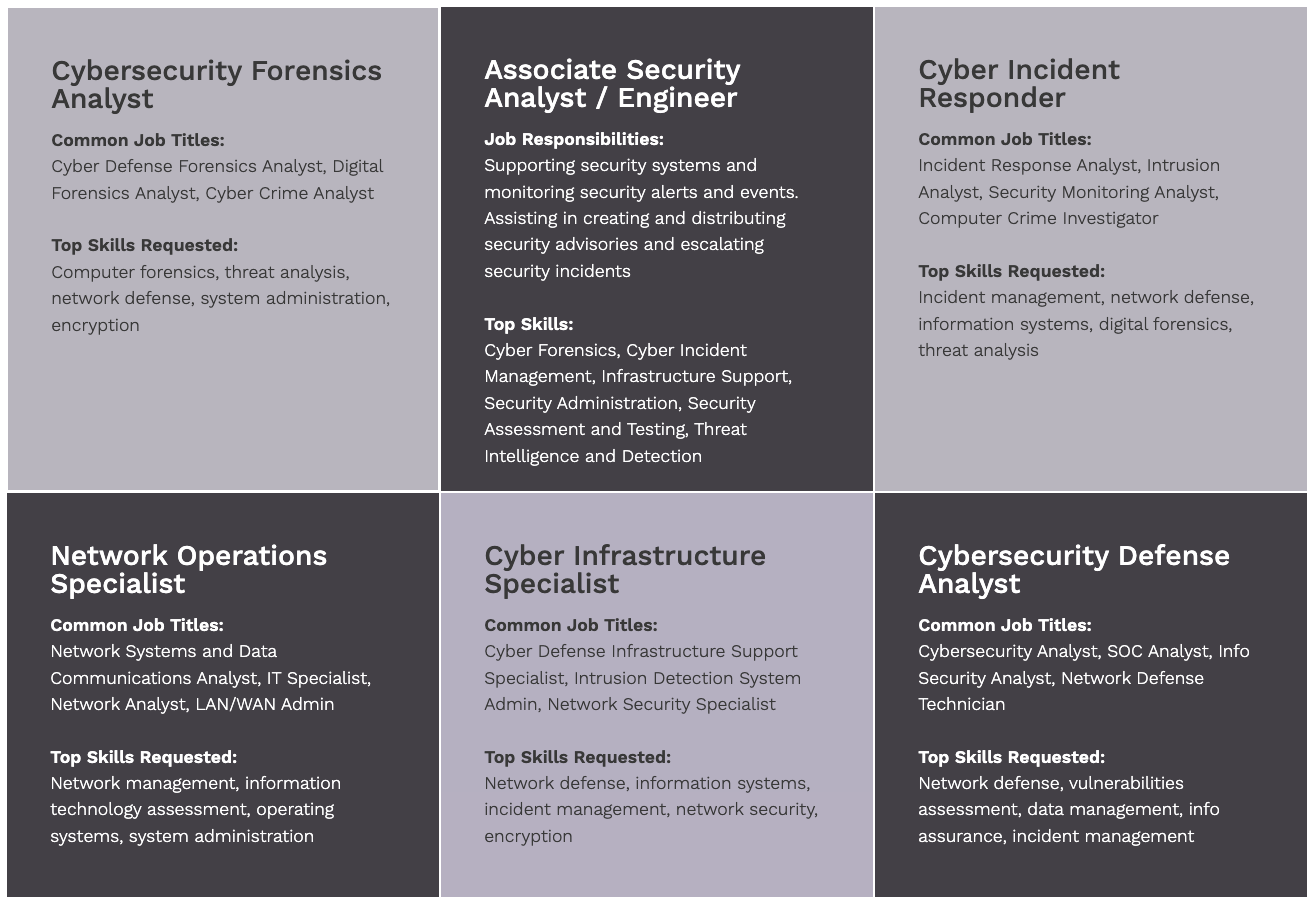 Frequently Asked Questions
Are there prerequisites for the Bootcamp?

No, there are no prerequisites for the Bootcamp. The program is open to any student who has at least a high school diploma/GED, and no prior IT experience or knowledge is necessary.

Prior to (or during the beginning of) the Bootcamp, all students will complete a thirty-hour intro to cybersecurity module which will bring everyone to the same level of necessary technical expertise.
What is the format of the Bootcamp?

You may begin the bootcamp at the end of each month, typically the last Tuesday, unless it's a holiday. This part-time bootcamp includes 480 hours of content delivered asynchronously over twenty-four weeks. Every Tuesday, students will have access to the next module.

Facilitators will have office hours every week where students can get live help and collaboration. The platform will be available to you 24/7. There is also a messaging platform where classmates and facilitators can communicate.
How will I learn practical cybersecurity skills?

In order for you to practice the skills you learn, the Bootcamp includes over 100 unique hands-on exercises that run in virtual machines. These are safe environments where you will be able to run different operating systems, access various tools without installing them on your computer, and practice confidently without putting your computer at risk.
What if I already have some IT knowledge? Do I still need to complete the entire Bootcamp?

This program is designed so that every student moves through each/all 12 modules in sequence. It is not possible to essentially "skip over" any of the modules. However, if you already have knowledge of certain areas, then instead of spending the anticipated few hours per week outside of class studying, you may only need to spend a little bit of time per week to complete that module before moving on to the next.
What are the minimal computer requirements and what is the recommended setup?

To participate effectively in the Bootcamp, you will need a laptop that is able to run video conferencing (including a working camera and microphone) and has an up-to-date operating system, as well as a stable high-speed internet connection. In addition, a second screen is recommended for optimal experience. The entire Bootcamp is browser-based so there is no need to install any app or software.
What certifications will I get from the program? Is there an exam?

Upon successful completion of the bootcamp, you will receive a certificate of completion issued by ThriveDX Impact and Loras College confirming that you completed cybersecurity training aligned with the United States government's National Initiative for Cybersecurity Education (NICE) framework led by the National Institute of Standards and Technology (NIST).

After you have completed the Bootcamp coursework, no outside licensing-type exam is required in order to be able to apply for entry-level cybersecurity jobs. However, you will have the background and knowledge needed to pursue a CertNexus First Responder certification if you wish, at a 20 percent reduced cost as a result of completing the program through ThriveDX Impact and Loras College.
What types of jobs will I be able to apply for after the Bootcamp?

Our curriculum is aligned with the NICE-NIST Framework and we will prepare you to apply for jobs like Cyber Security Analyst, Cyber Forensics Analyst, and Cyber Incident Responder. Skills in cybersecurity are universal, therefore, after you graduate from the Bootcamp you can apply for positions anywhere in the world.
What is the cost of Bootcamp? Do you offer refunds?

Costs are found on the tuition and fees page. If, after beginning the bootcamp the student decides it is not a good fit, students may receive 100% tuition refund up until two weeks after the first day of the bootcamp. After the first two weeks, no refund will be given.
Do you provide job placement assistance upon completion of the program?

Loras and ThriveDX do not provide formal job placement assistance; however, there is a module within the bootcamp titled "Your Career Guide to Success" which is filled with best practices for your job search.
Does Loras offer any discounts for alumni, groups, or other selected individuals?

Loras College offers a 10% tuition discount to students employed by a Loras corporate partner. Get more information on how your place of employment can give employer tuition assistance.