Pre-law is not a major, however, Loras has designed a sequence of courses to help prepare you for the application and admission requirements to the specific law programs you are interested in after earning your bachelor's degree at Loras College.
Law School Professional Information
For students considering a career in the law, Loras offers a diverse, in-depth, and individualized pre-law program.  Following recommendations of law schools and the American Bar Association, Loras does not have a pre-law major.  There is no one "right" major for a legal career, and the liberal arts education at the core of the Loras curriculum serves as a fantastic foundation for law school. 
Developing critical reasoning, writing, and effective oral communication skills are key to success in law school and legal career.  In addition, Loras offers a variety of undergraduate courses for students to explore and pursue their specific interest in law, and to help discern their vocation.  Law-focused courses are offered in a variety of fields (e.g., Business, Criminal Justice, Politics, English, and Communication) and are open to all students. 
Beyond courses, pre-law advising and unique co-curricular opportunities distinguish the Pre-Law program at Loras.
For More
University of Iowa's
3+3 Accelerated Dual Degree
Loras partners with top-ranked University of Iowa College of Law to allow qualifying students the ability to obtain both their Bachelor's degree and the Juris Doctorate in 6 years.
Qualifying Loras students are allowed to apply early for law school admission at University of Iowa College of Law, and Loras will count the credits from the student's successful first year of law school towards completion of their Bachelor's degree at Loras. 
As such, students will receive their BA/BS degree from Loras and their JD from University of Iowa. 
Application Requirements

To qualify for the 3+3 program you need to be on track to complete their general education, major requirements, and total credit count by the end of the Junior year.

Students in the 3 + 3 program should take the LSAT in October or December of your Junior year and apply in January after fall grades are available. However, later applications, including those from June LSAT-takers, will be considered.

Candidates in 3+3 are considered alongside Iowa Law's regular pool of applicants.
Next Steps

Work with your advisor early to meet Loras' requirements for the program. You should also learn more about Iowa Law by attending one of our Explore Iowa Law open houses, scheduling a personal visit, or attending a recruiting event.

The Loras 3+3 advisor is Prof. Christopher Budzisz. He can be contact via email.
---
Get Involved
At Loras College, students with an interest in law have amazing opportunities to gain hands-on legal experience such as moot court, internships, and other student organizations, strengthening your understanding of trial procedures and connecting with like-minded peers. Pursuing legal internships provides invaluable exposure to the real-world legal field. Through Loras' robust offerings, you can confirm your interest in law, stand out on law school applications, and get a head start on developing skills that will propel your legal career. Take advantage of these pre-law activities to maximize your practical legal preparation.
St. Thomas More Pre-Law Society

Organization for all pre-law students.  The St. Thomas More Society hosts speakers, workshops and events on the law school admissions process, and networking events with legal professionals.. All to help you make an informed decisions about pursuing a career in the law.

Learn More <Duconnect>
Moot Court

Moot Court is an intercollegiate academic competition in which you perform the role of attorneys in oral argument in a fictitious case before the US Supreme Court.  While the case problem is fictitious, the case involves real areas of constitutional law and U.S. Supreme Court precedents.  Students learn the constitutional law involved and develop and present their own oral arguments.  Moot Court simulates what occurs in the U.S. Supreme Court, and is a fantastic opportunity to develop skills in reading and applying the law.  Loras students participate in regional and national intercollegiate competition.  Loras is only 1 of 2 such programs in Iowa and 1 of 4 programs across Iowa, Illinois, Minnesota, and Wisconsin.
Internship Opportunities

As part of your pre-law experience at Loras, you can pursue internships that encourage you to apply what you are learning through your coursework in a professional setting.

There are unpaid internships available at the State of Iowa Public Defender's Office, the Dubuque County Attorney's Office, Iowa District Court Administration, Legal Services of Iowa, and occasionally paid internships at private law firms.

Places Loras students have interned previously:

Blackhawk County Courthouse

Iowa Public Defender's Office
Iowa Legal Aid
Reynolds and Kenline
Boffelli and Spannagel
Common Majors
You may choose a major in any field and take the required prerequisite courses for your desired professional track. Our pre-law faculty advisors guide you on course sequencing and work with you to develop a plan of study, depending on your major and desired professional pathway.
While a specific major is not required, many pre-law students choose a humanities major.
Advising Matters
All students interested in a legal career have access to pre-law advising. This advising offers support in pre-law course selection, internships, LSAT preparation, and the law school application process.
Through tailored guidance and mentorship, pre-law advising empowers you to make informed decisions and succeed in your legal education and career aspirations.
Academic Guidance
Regular advising sessions with the pre-law advisor
Campus visits from local law professionals
Opportunities to investigate opportunities within the legal field
Resources on career choice, schools, and admissions requirements
Get Into Your Program
Meet admission officers from law schools when they visit campus
Visit a variety of law schools
Mock interviews and application workshops
Get the Right Experience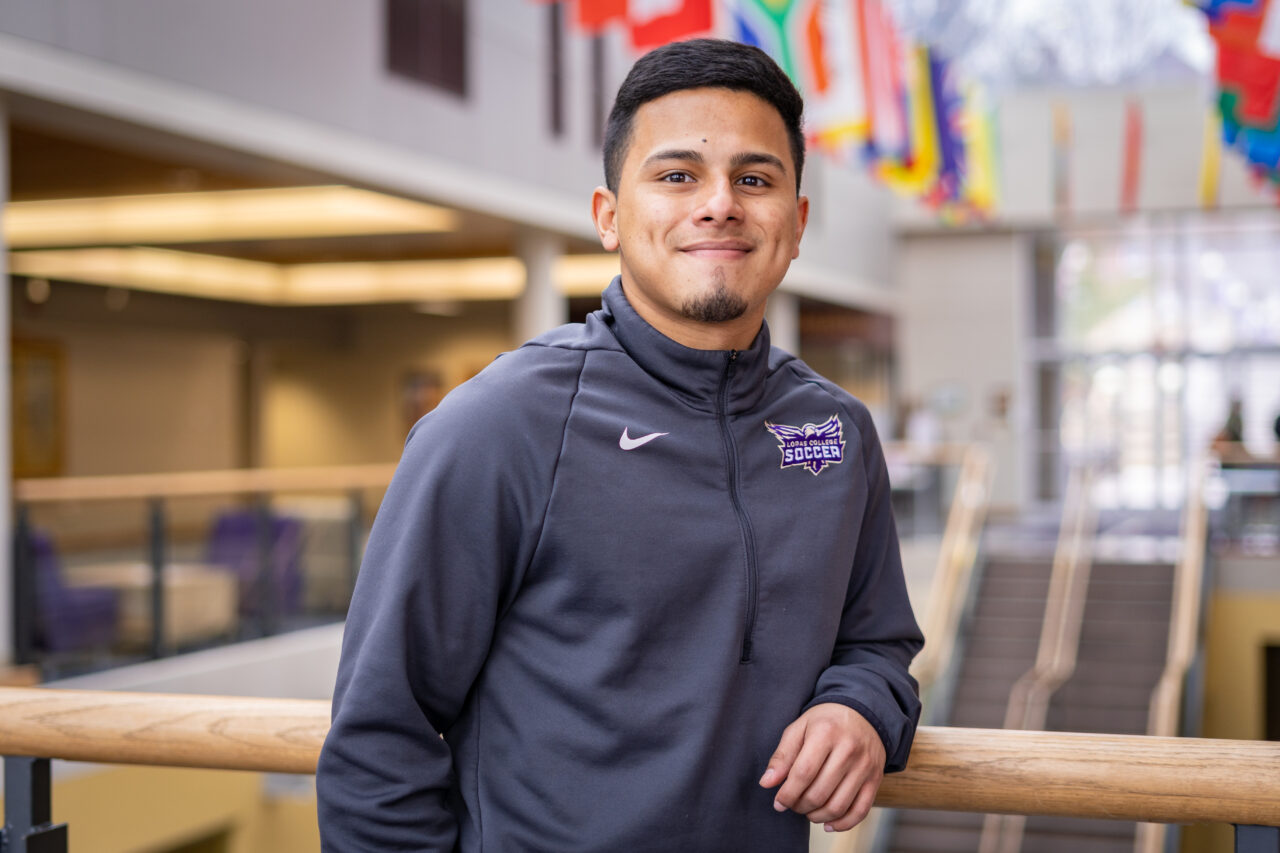 We encourage and guide you to secure internship hours or a part-time job in law enforcement, courthouse, law office, city government, non-profit organization, city attorney's office, or related field, shadowing professionals in a variety of settings, and help you find volunteer and leadership experiences during your time at Loras.
This provides an opportunity to confirm your calling, build the foundation towards a well-rounded legal professional and leader, and develop a competitive law school application.
Straight Talk from a Duhawk

The pre-law pathway has helped me focus on my future plans, with the help of a wonderful group of advisors and professors who understand my path to law school.

— Connor Reilly